Charlie's Cup Bar Games · Any General
MonTueWedThuFriSatSun 3:30pm to 6:30pm
Individual Fees

Regular

$10.00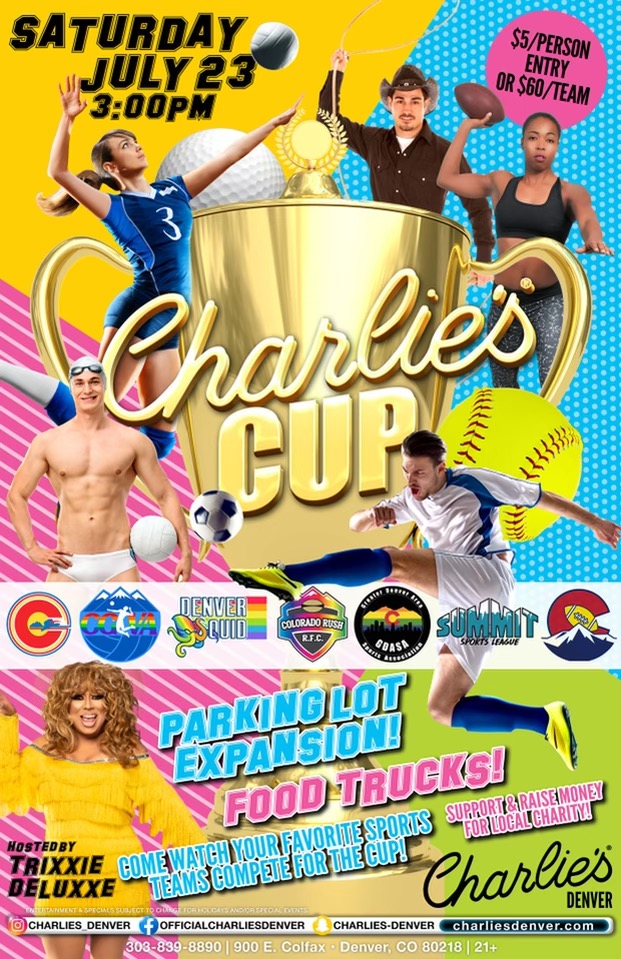 WHAT IS CHARLIE'S CUP?
Denver LGBTQ+ Sports Leagues are coming together for a Beer Games & Obstacle Course Extravaganza to help raise funds for the CENTER ON COLFAX. Each League will also have a Drag Queen representing them for a drag competition!
EVERYONE (over age 21) can sign up to play. It is not required that you have played with the league you will represent and compete as.
WHEN:
SATURDAY, July 23rd, 3-6pm
WHERE:
Charlie's Denver is hosting and opening up their parking lot with food trucks, music, a large inflatable obstacle course, cheer competitions and more!
REGISTRATION TO COMPETE:

Cost is $10/person (6 to a team)
Sign up to represent the League of your choice and we will split teams up in 6s.
***If you have friends that all want to be on the same team, we will put you together on the day of.
GAME DETAILS:
Games will include both beer and obstacle course fun. Be ready for a range of athletic possibilities including getting wet, sweaty and tipsy (at your own risk.) The league with the most points will walk away with the Charlie's Cup and prizes!
GENERAL ADMISSION FOR SPECTATORS:
$5 at the door.

Spectators can also participate! We will have bonus ways throughout the competition to help earn your favorite league extra points while also helping raise more funds for the Center on Colfax.