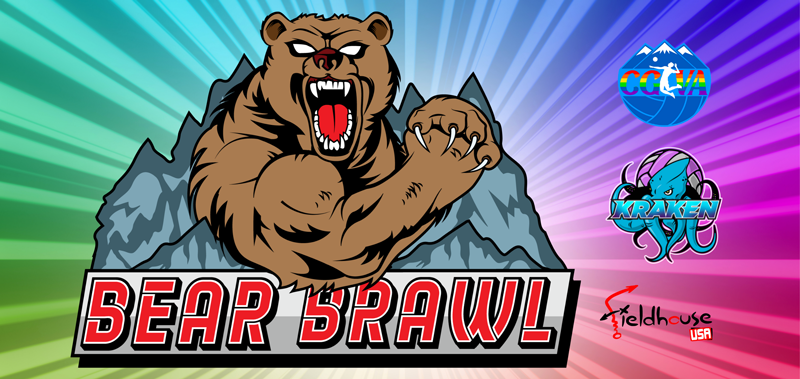 Welcome to the 2021 1st Annual Colorado Bear Brawl!
We are excited to get back on the NAGVA courts with the first annual Colorado Bear Brawl tournament at the beautiful, new facility, The Fieldhouse USA in Aurora, Colorado. There will be 8 giant volleyball courts outfitted with 4k live streaming cameras, all game film will be available to download from the cloud the Monday following the competition. We have a fun filled, action packed weekend planned, and are confident that you will have a great time!

DATES:


VENUE:
Fieldhouse USA
14200 E Alameda Ave, Aurora, CO 80012
Get directions here.


SCHEDULE:
Friday - October 15, 2021
Registration Party
X-Bar
7-10pm

Upon arrival you will sign in at the registration table with your government issued Identification. You will receive your player bag and Bear Brawl T-Shirt. Drink specials include BOGO 7-8pm and after 8pm, $1 off Casamigo Svedka cocktails.



Saturday - October 16, 2021
Bear Brawl Seeding Party
Triangle Denver

On Saturday evening we will continue the Bear Brawl and post the Pool Play results and tournament seedings will be posted on the Bear Brawl website by 8:30pm, so If you are unable to attend the Bear Brawl Party check the website for bracket play information. All players will get a ticket for a FREE drink.

Sunday - October 17, 2021
The awards presentations will be held at the competition venues immediately following the conclusion of the last final at each venue. We expect all competition to be completed by 7:00pm. 1st thru 3rd place teams will receive medals for each of their players and a team trophy. An All - Tournament team will be selected for each division, which will include 5 AllStars, a Defensive Diva and MVP. The All - Tournament team will receive individual Allstar Awards and 2021 Bear Brawl Apparel items as prizes for their superior tournament performance.

REGISTRATION:
There are 4 steps to register:


STEP 1: Become an NAGVA member (if not already) by clicking here.


STEP 2: Team Captains activate your 2021-2022 NAGVA Team Membership here.
STEP 3: Team Captains enter your team on the NAGVA site for the tournament here.
STEP 4: Team Captains register and pay for the COLORADO BEAR BRAWL Tournament here.



PRICING:
REGULAR

: Until Sept 24th - $500.00 per team + 5.0% Processing Fee
LATE: Until Oct 1st - $550.00 per team + 5.0% Processing Fee