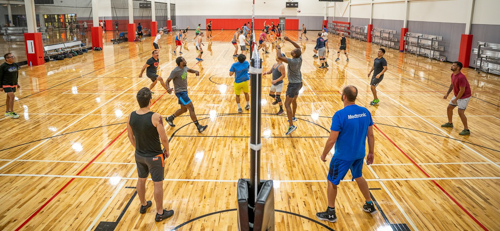 Open play is an opportunity to dust off those volleyball skills and meet fellow CGVA players. If you are a free agent, this is a great opportunity to find a team to join. Each season has 1-2 Open Play sessions at each league location.
Stay informed with the latest season announcements on our social media:
3. FB Community Group - Where CGVA Leaguers connect with each other.


HOW OPEN PLAY WORKS


1. REGISTER ONLINE BEFORE YOU ARRIVE!
All players must sign up before you arrive for each Open Play session. Visit cgva.org to learn more and register.


2. WRISTBANDS
To help identify who is who, colored wristbands will be handed out to help team captains and free agents connect. TEAM PLAYERS already registered with a team will not need a wrist band.


3. A TIME TO MIX & MINGLE
THIS IS NOT TEAM PRACTICE TIME, but rather, an opportunity to play with new people. Be prepared to split up and volley with different people at your division level.


4. COURT ASSIGNMENTS
When you arrive, specific courts will be designated for each division level.


5. HOW GAME PLAY WORKS
OVERVIEW:
With the exception of the first game, players will play TWO GAMES regardless of winning, and move off the court.


FIRST GAME ONLY:
The winner stays on the court and the losers leave the court. Winners move to the back side of the court if they aren't already there.

NEXT-UP TEAMS WILL BE EXPECTED TO SCORE-KEEP and can optionally line judge/officiate. This can be time to practice reffing for the upcoming season.


FOR EVERY FOLLOWING GAME:
Regardless of who wins or loses, the scorekeeping team moves onto the front side, the front side team moves to the back side, and the back side team moves off the court. This results in every team getting to play TWO games in a row and gives a nice flow.


A CHANCE TO PRACTICE REFFING FOR THE SEASON:
Each team will require at least one player that is a CGVA Referee Certified for regular season play. Open Play is an opportunity to support the playing teams and get some practice officiating.